We provide yard cleanups & snow removal & deicing services in Canonsburg and nearby Pennsylvania areas.
In our part of Pennsylvania, it's important to have a thorough yard cleanup before and after the winter months to prevent the unmanageable buildup of debris, leaves, and other yard waste. If they aren't managed properly, excessive debris can choke your grass and plants, and prevent them from surviving the winter.
At Luke's Lawn Care & Landscaping, we free up your weekends with cleanups in the spring and fall. We also offer snow removal and deicing services in McMurray, Washington, Canonsburg, and other service areas.
---
Spring & Fall Cleanups Include Leaf Removal, Mowing, Trimming, Edging, and More
In spring, we gear up and head to your property to clear the way for healthy, neat-looking lawn and landscaping. Leading into the winter, our fall service ensures that your lawn is clear and your planting beds are ready to survive the freezing temperatures and snowfall.
Cleanups are important in preventing excessive debris from being buried in snow in the winter and to kickstart the growth of your grass and plants as the temperatures start to warm up.
Here is a basic rundown of our cleanup services:
Basic Cleanup Services
Trim Landscape Plants
Reshaping Beds
Mulch/Rock Installation
Debris Removal
Other Cleanup Services
Mowing
String Trimming
Edging
Blowing
We offer a leaf removal service in the fall, running between October and December, which includes blowing out of landscape beds, and suction of leaves for hauling.
---
Professional Snow Removal Services for Commercial & Residential Clients
Many home and business owners are injured every year attempting to clear their own properties of snow and dangerous ice. Our team has the heavy-duty gear to get the job done quickly and safely to give you peace of mind and to reduce injuries.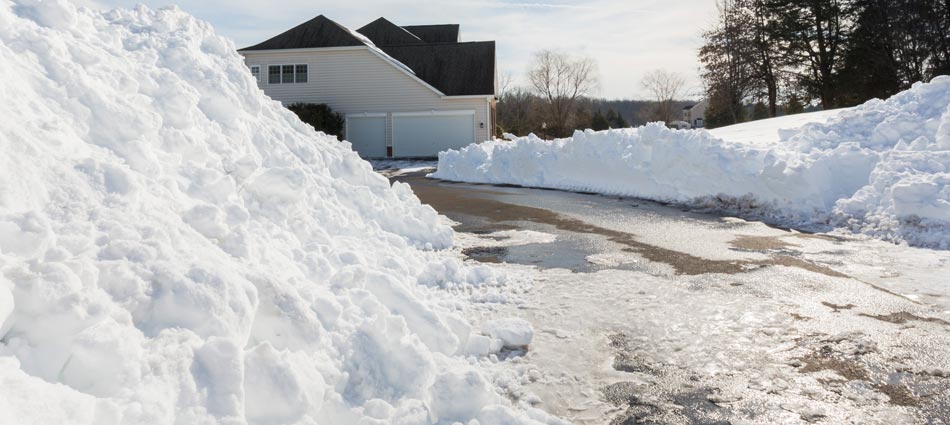 Commercial Snow Plowing & Removal Service
Snow plows on trucks & skid loaders for parking areas & driveways
Snow is piled on site
Sidewalks & walkways are cleared
Service is provided as needed for safety and accessibility
Residential Snow Plowing & Removal Service
Provided for scheduled mowing customers
Light trucks and hand shoveling on driveways
Plows have rubber lining to protect concrete
For deeper snow, snow blowers are used
Clear sidewalks and walkways
Service begins when snow reaches at least 1" deep
---
Deicing Service Includes Pre-Treatment for Commercial Properties
Businesses have an obligation to protect their customers from falls and injuries. We offer a proactive approach to deicing for our commercial clients which includes a pre-treatment for increased safety. We also spread rock salt on parking lots and driveways so customers and co-workers can safely access the property.
For residential properties, we use a calcium chloride mix which reduces damage to concrete. Regular treatment of ice is important for injury prevention, but it also protects your hardscapes from suffering from cracks and other damage during extreme cold.
---
Call today to be placed on our schedule for cleanups, snow removal, & deicing services!
Here at Luke's Lawn Care & Landscaping, we keep your property looking great year round and help keep you safe and clear during the winter in McMurray, Washington, Canonsburg, and the surrounding areas.
Call 724-344-8202 today for a consultation and to become our next satisfied customer.